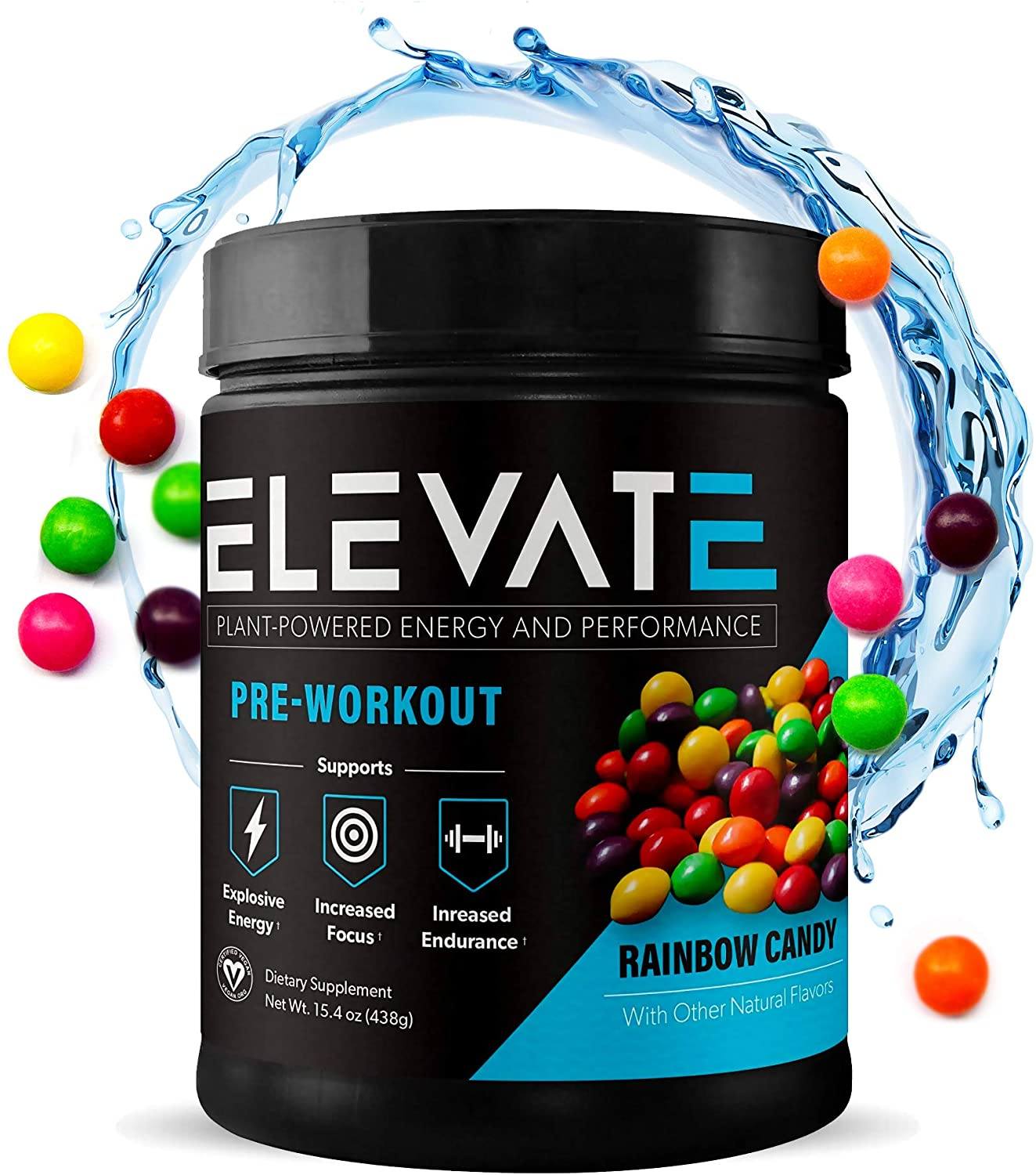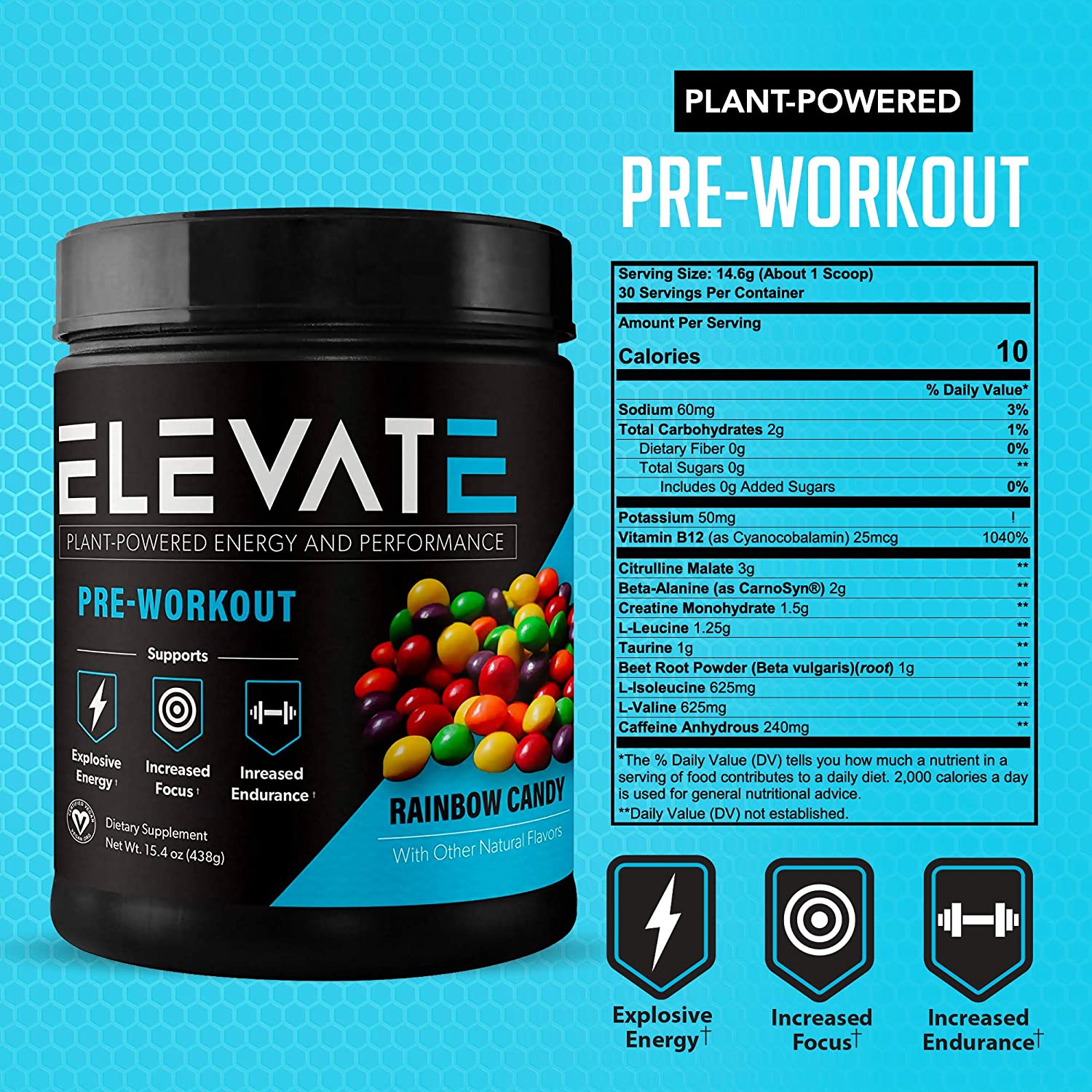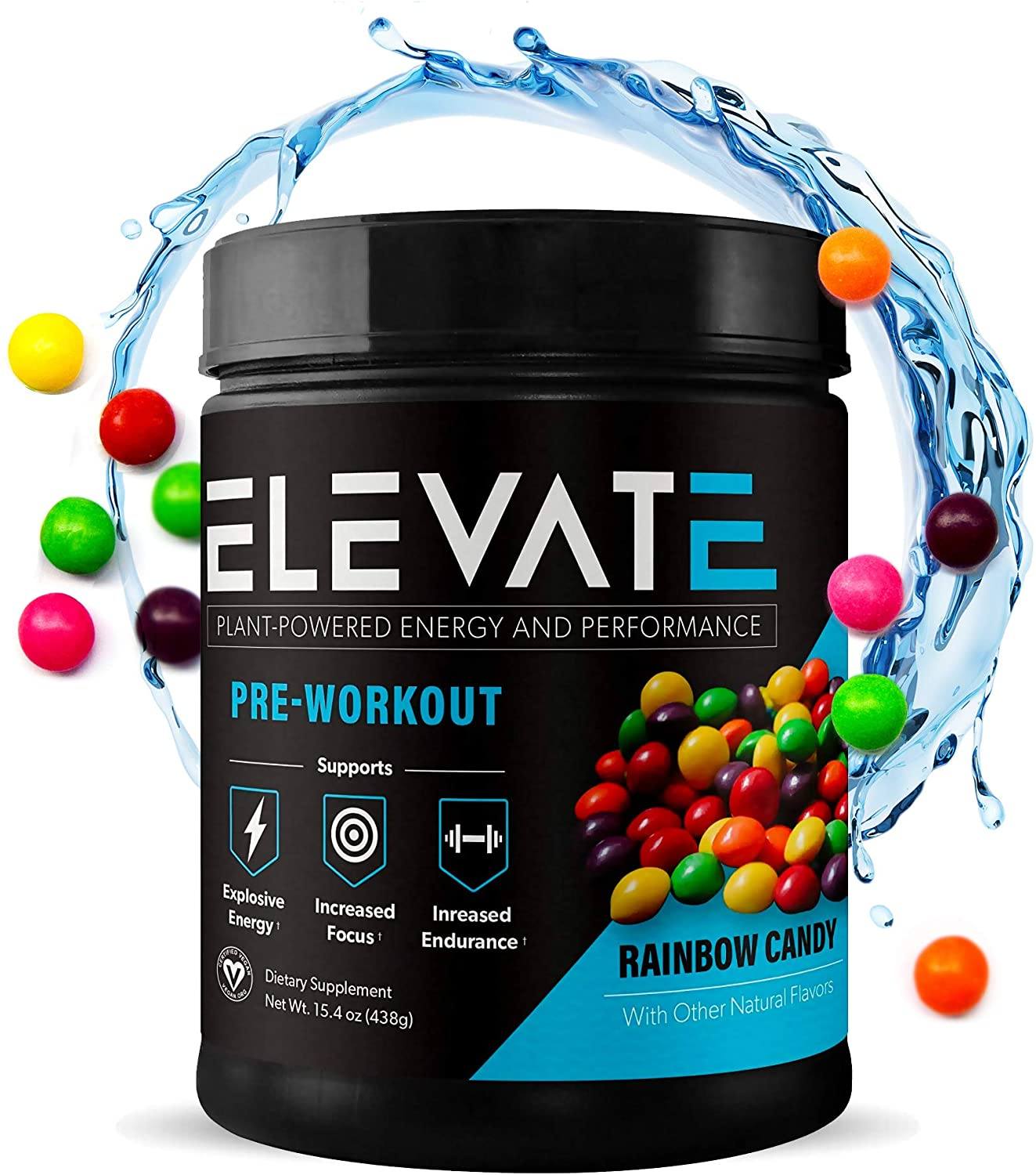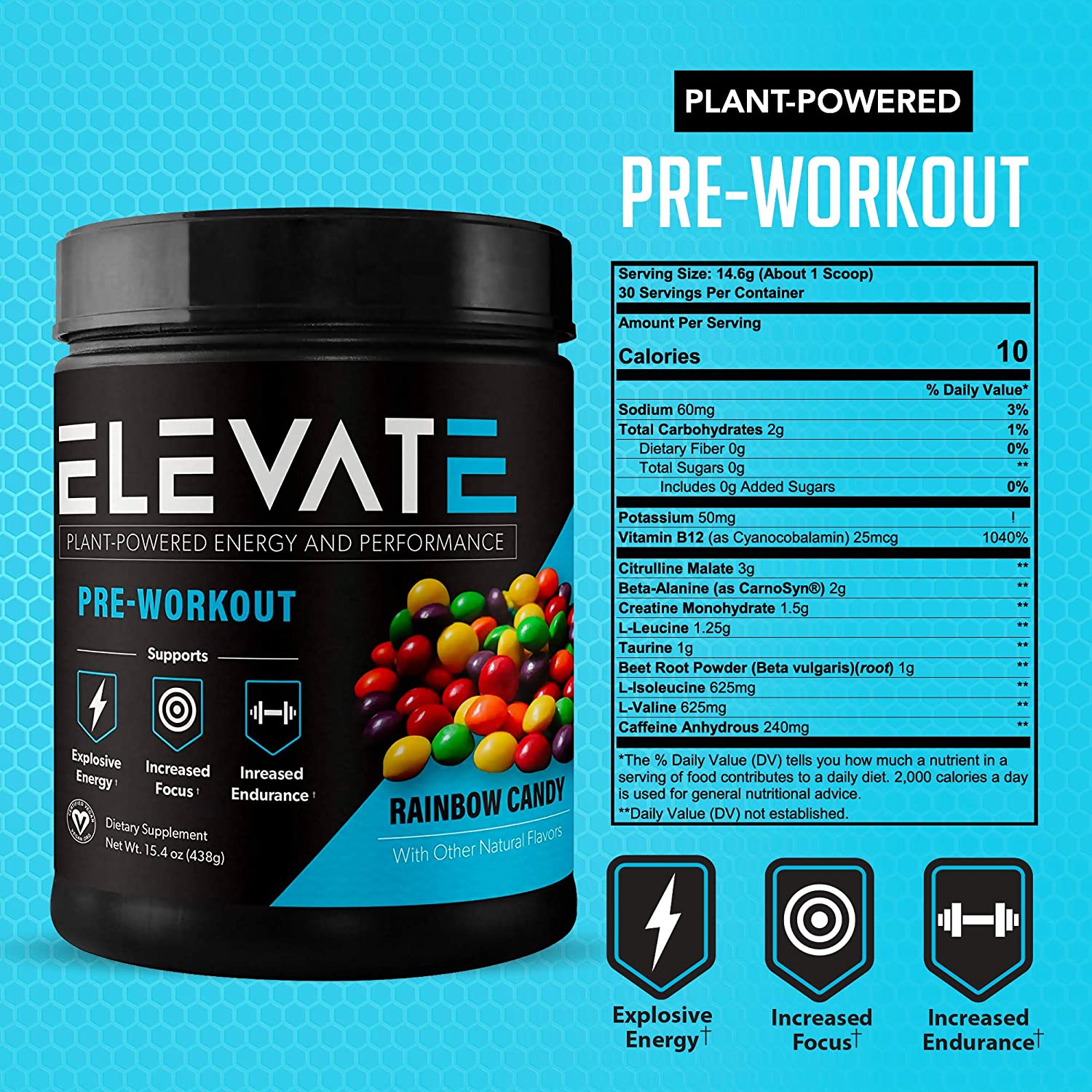 plant-based-performance-protein-chocolate-brownie-nutrition-facts
ingredients-inside-vegan-pre-workout-powder
supplement-facts-plant-based-pre-workout-powder
using-elevate-rainbow-candy-pre-workout-powder-before-workout
Plant Powered Pre-workout Energy
Our pre-workout energizer is packed with nutrients that provide an explosive boost of energy and stamina for exercise. The all-natural plant-based pre-workout formula is designed to stimulate muscle growth, elevate your mood and mental focus, and replace electrolytes lost during exercise. As always, our formula is non‐GMO, low carb, no sugar, gluten‐free, certified vegan, keto friendly, and contains no artificial colors or sweeteners!
Macronutrients (per serving)
N

Calories: 10

N

Carbs: 2g

N

Sugar: 0g
Ingredients
Coconut Water Powder, Natural Flavors, Monk Fruit Extract, Silicon Dioxide, Himalayan Rock Salt, Lecithin (Sunflower)
Energy Performance Blend (11g per serving)
N

Citrulline Malate: 3g

N

Carnosyn Beta Alanine: 2g

N

Creapure Creatine Monohydrate: 1.5g

N

Leucine: 1.25g

N

Taurine: 1g

N

Beet Juice Powder: 1g

N

L Isoleucine 0.625g

N

L Valine: 0.625g

N

Caffeine Anhydrous: 240mg

N

Vitamin B12: 25mcg
N

Caffeine anhydrous and B12 to support explosive energy.

N

Citrulline Malate, Creatine, & CarnoSyn® Beta-alanine to support enhanced muscle strength and increased endurance.

N

Perfect BCAA ratio, 2:1:1 to promote muscle protein synthesis and increase muscle growth.

N

Beet juice to support healthy blood flow and vascularity.

N

Taurine to support elevated mood and promote mental focus.

N

Electrolytes to support healthy hydration during exercise.

N

Vegan, vegetarian, keto, paleo, gluten‐free product

N

Non‐GMO, no artificial flavors or sweeteners

N

Low carbs

N

No Sugar
Plant‐Based Pre-Workout Performance Supplement for Explosive Energy, Mental Focus, Mood Enhancement, & Replace Lost Electrolytes During Exercise.
Non‐GMO, Low Carb, No Sugar, Gluten‐Free, Certified Vegan, & Keto Friendly
"Push yourself because no one else is going to do it for you."
~Unknown
We can all use a little extra energy – choose Elevate's vegan pre-workout to do the trick (without consuming hard to digest, unnatural chemicals unlike conventional pre-workouts). We chose the best ingredients for fitness enthusiasts, bodybuilders, gym fanatics, powerlifters, CrossFit athletes, and pretty much anyone living an active lifestyle.
What's in Elevate' Plant-Based Pre-Workout?
Short answer: only the good stuff! Longer answer: we believe fueling the body with optimal ingredients means optimal performance. That's why we chose to use coconut water powder as a base for this formula. Why? Coconuts are rich in electrolytes (magnesium, potassium, calcium, etc.) which are key for maintaining central nervous system health and stamina. We've also got caffeine and taurine. Why? We all know about caffeine's powerful effects – we've got just the right amount of these two stimulating ingredients to give you the energy to push through your workout – even after a long day. We've made it sweet, too. With what? Monk fruit. All-natural sweetness that's plant-based, keto-friendly, vegan, and low carb.

Why Choose Elevate's Plant-Based Pre-Workout Energy?
Because you can count on us for quality nutrition to power your workout – post, during, and after. We specialize in making delicious-tasting supplements that are completely natural. Our brand is free of GMOs, dairy, soy, sugar and we have a great selection of products for those following Plant-Based, Vegan, Keto and Paleo diets.
We've made it taste good, too.
With what?
Monk Fruit!
All-natural sweetness that's plant-based, keto-friendly, vegan, and low carb.
We've made it taste good, too.
With what?
Monk Fruit!
All-natural sweetness that's plant-based, keto-friendly, vegan, and low carb.
Fully Plant Powered
Pump up your workout with our vegan pre-workout that's fully powered by plants and natural ingredients (caffeine, coconut, taurine, B12 and more)
No GMO, Dairy, Sugar & Other Nastie
We keep it natural at Elevate Nutrition; our keto-friendly pre-workout contains a coconut water powder base and other energy-boosting ingredients to make your body feel best before hitting the Iron Temple
Stimulates Pump & Muscle Growth
See the difference with our BCAA energy drink powder; not only does it taste delicious, you'll be amazed by the pump and power you'll feel
Explosive Energy Before Exercise
Fortified with all kinds of goodies like B12, caffeine, taurine, and others which stimulate the body and boost mood; also with coconut water powder to replace electrolytes, keeping you stronger longer and increasing stamina
Step Your Game Up With Elevate Nutrition
We only use optimal ingredients in our products; choose our plant-based pre-workout to boost your stamina and pre-workout energy (without loading up with garbage chemicals!)
FROM THE FOUNDERS OF ELEVATE NUTRITION
We value your opinion, so please let us know what you think of our Plant-Based Performance Protein Powder
Jillian and Paul are the co-founders of Elevate Nutrition. They are both PlantBuilt athletes who compete in bodybuilding and powerlifting. They founded Elevate Nutrition in 2015, in order to provide clean, healthy, and effective nutritional supplements to their fellow plant-based vegan athletes. They have dedicated their life to health, fitness, nutrition, & spiritual well being and wish to share their knowledge with the world.